2022 Narrative
GAMBELL: Another fabulous trip to Gambell marked by many nice vagrants, including a first island record, and a midnight Aurora borealis. Bird highlights included a very cooperative (as far as pipits go) Pechora Pipit, Flava Horned Lark, Siberian Stonechat, the first island record of Gray-streaked Flycatcher, and a cooperative Buff-breasted Sandpiper. Perhaps the rarest bird of the trip was the sixth Alaskan record of Mourning Warbler which perched nicely in view on an old wooden boat frame for all present to see.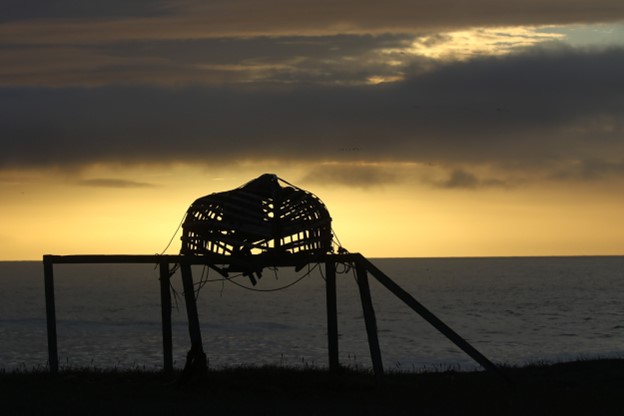 Sunset from the boatyard (above). Photo: Raymond VanBuskirk
September 2nd: Raymond arrived a couple days earlier than the group to handle on-island logistics, including tracking down the best ATVs and doing a bit of scouting for birds at the regular Gambell hotspots. He met the group as they exited the plane about 2:15pm and we got checked-in, enjoyed sandwiches, and had a quick information meeting. After an ATV training course, we were on our way to the Far Boneyard in hopes of seeing some of the birds found there in the morning.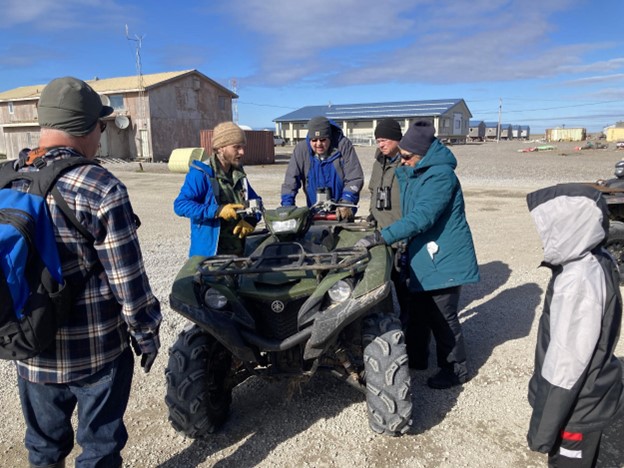 The group learning about safe ATV operation (above) Photo: Matt Brooks
By this time the winds were calming down out of the north and the clouds were opening up - it was the first sun for multiple days. The burst of sunshine produced gorgeous lighting, and the group enjoyed spectacular views of Arctic Warblers (not always easy to see), and White Wagtails, as well as Snow Buntings and Lapland Longspurs. After the boneyard we drove the north shore of Troutman Lake and had nice looks at Green-winged Teals and Northern Pintails. We continued along the shoreline to the southern end of the boatyard, where we were able to locate up to three Bluethroats, a Northern Wheatear, and another Arctic Warbler. Afterwards we headed in for the first of many delicious home-cooked meals.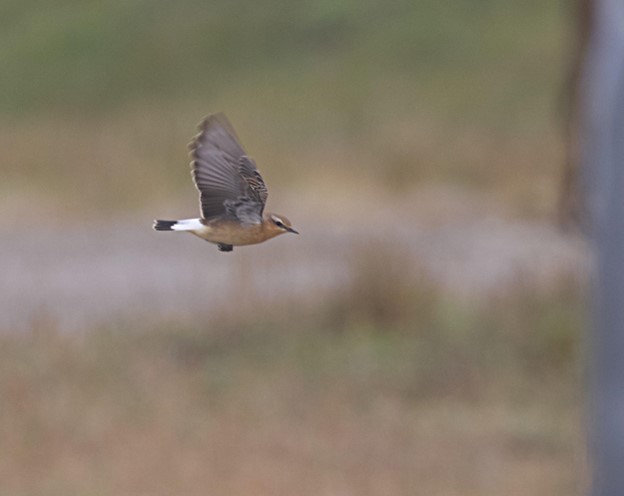 One of many Northern Wheatears seen during the tour (above). Photo Raymond VanBuskirk
With full bellies we headed back out for the post-prandial puffin show at the northern cliffs. The evening sun was shedding golden light on the cliffs and we enjoyed beautiful views of Tufted and Horned puffins congregating on the cliff edge, while Crested and Parakeet auklets carried food back to their nestlings tucked away deep in their burrows. Out beyond the surf line we watched small rafts of Least Auklets bouncing up and down between the waves.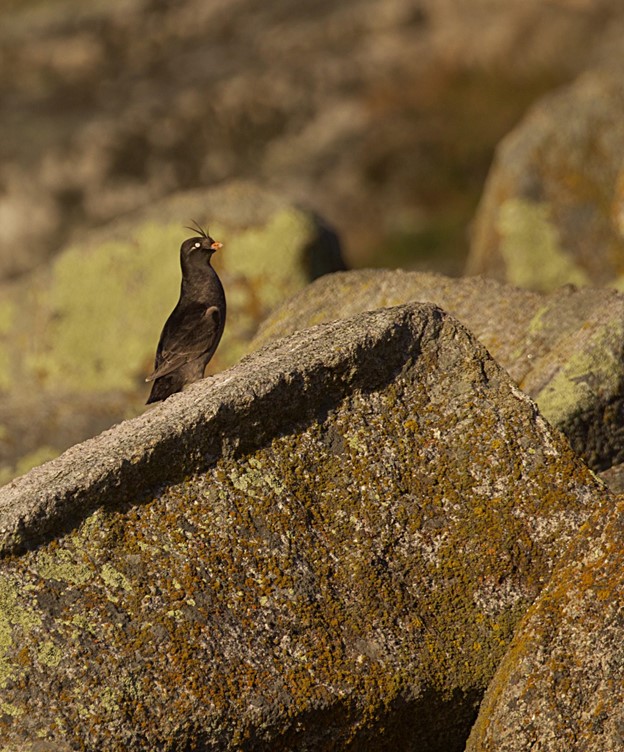 Crested Auklet at sunset (above). Photo: Raymond VanBuskirk
September 3: We started the morning with seawatch where we found our first (and only) Kittlitz's Murrelet, as well as many flyby Harlequin Ducks, King Eiders, and many thousands of Short-tailed Shearwaters, as well as a few Northern Fulmars mixed in.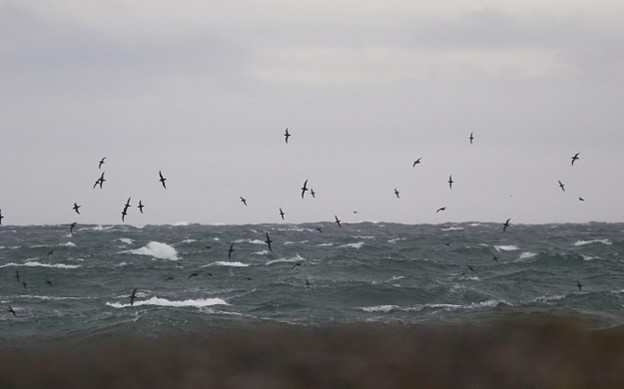 Short-tailed Shearwaters migrating past seawatch (above). Photo: Raymond VanBuskirk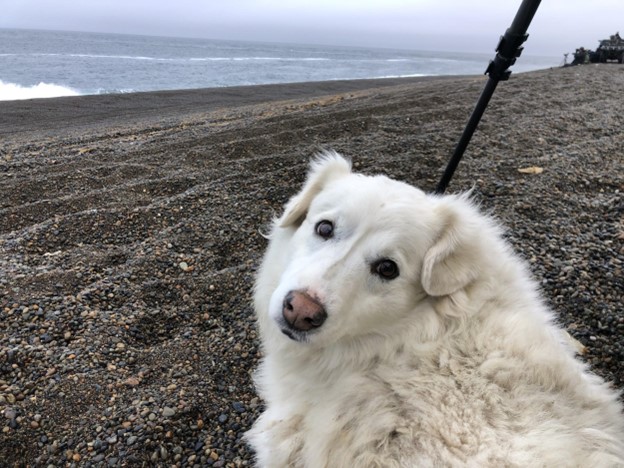 "Snowball" adopted the birders and regularly attended seawatch in the mornings (above). Photo: Raymond VanBuskirk
The Far and Circular Boneyards were particularly uneventful so we birded the western and southern shoreline of Troutman Lake hoping for Gray-tailed Tattler. Much to our surprise we found a Horned Lark about halfway down the western shoreline. Given that Horned Larks are common across much of North America many people's gut reaction is to move on to "better" birds, but as it turns out Horned Lark is a rare bird here at Gambell. This individual with its very bright yellow face represented the Flava subspecies which typically occurs in the Russian Far East and is very rare in North America in general. Further down the lakeshore we encountered a gorgeous juvenile Red Phalarope and were in the middle of studying it when we learned of a Pechora Pipit that had been kicked out of the Near Boneyard by Aaron's group. Given the skulky nature of this species we were anxious to get up there ASAP and we made fast work of the ride back to town, arriving in the boneyard to join the other birders on the island for a little pipit stomp. It didn't take long to flush the bird but it took many flushes before we'd seen it well enough to know for sure that it was in fact a Pechora.

Pechora Pipit perched in boatyard (above). Photo Raymond VanBuskirk
September 4th and 5th: These days were some of the slowest of the trip for rarities (the reality is that most days during migration don't produce rarities). The boneyards were slow overall but the Pechora Pipit was still around. We did enjoy gorgeous views of Sharp-tailed and Pectoral sandpipers at the sewage lagoon. A trip to the southern marshes failed to turn up much besides a couple Pectoral Sandpipers and some spectacular views of the island. We enjoyed a nice afternoon seawatch which included getting to see a young Pigeon Guillemot in the hand that had crashed along the shoreline just short of the water, likely after fledging from the nest. We took some pics and helped it on its way, releasing it into the water.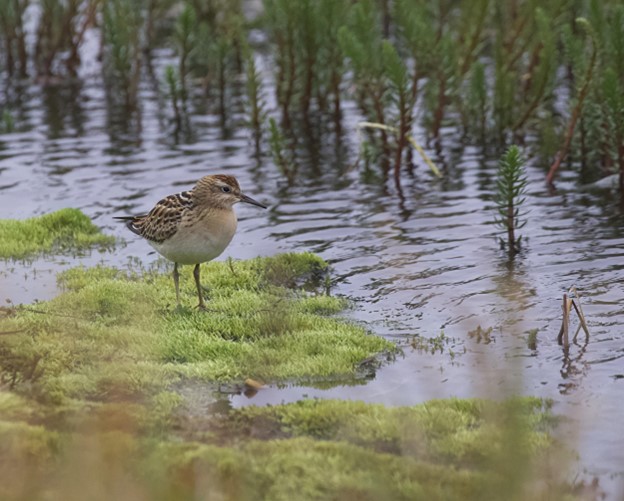 A gorgeous juvenile Sharp-tailed Sandpiper at Sewage Pond (above) Photo: Raymond VanBuskirk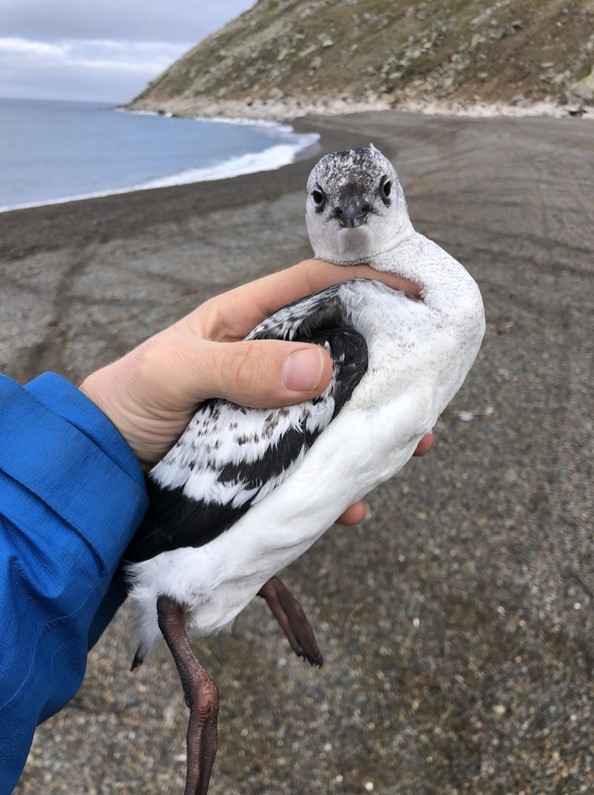 Grumpy guillemot being returned to sea (above). Photo: Raymond VanBuskirk.
September 6: It was an uneventful seawatch overall but we had close views of Gray Whale feeding right along the shoreline. The Far Boneyard stomp was equally uneventful. As we wandered north from the boneyard we stopped to look at a flock of American Pipits and Northern Wheatears up on the mountain when Steve spotted a tiny little bird perched high in a boulder field, after some bad scope views, and a lot of tracking it across the slope for better views we were able to determine that it was a Siberian Stonechat! The little bugger was very difficult to keep track of and we regularly lost sight of it before it would then reappear quite a ways away. At one point, while trying to relocate the Stonechat, Raymond discovered a Gray-streaked Flycatcher sallying high in the rocks. We eventually got very nice scope views of it and Rodney was able to get some nice photos of it at close range. As it turns out, the Gray-streaked Flycatcher was the first island record, and one that's been on the list of likely new birds for Gambell for quite some time! After tracking the flycatcher through the rocks we discovered a Wilson's Warbler to round out the day.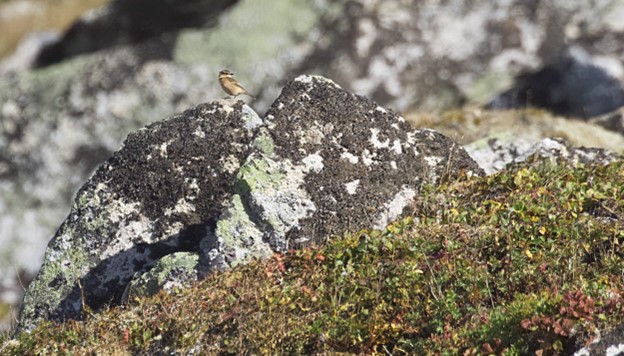 Siberian Stonechat perched on a stone (above) - how apropos. Photo: Raymond VanBuskirk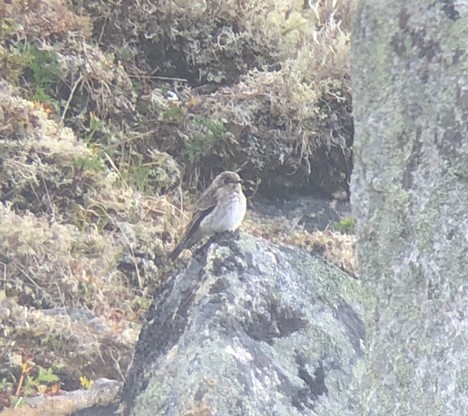 St Lawrence Island's first Gray-streaked Flycatcher (above). Digi-scoped through Zowa TSN 99 spotting scope by Raymond VanBuskirk
September 7: We awoke to a strong north wind, which is typically a good sign for seawatch. Surprisingly, diversity and overall numbers were low but we had a few goodies including at least 8 Ancient Murrelets, and a close look at a male Spectacled Eider in flight. Pacific Loons flew past in low numbers and we counted a group of 10 Pacific Golden-Plovers. Morning boneyard stomp was cold, wet, and windy. We didn't have many birds (almost none). The Stonechat made a brief, but distant appearance near corner marsh, but we opted to go tattling… we ran the western shoreline of Troutman but didn't encounter any tattlers. We did see the first immature Black-legged Kittiwake of the trip. Numbers of immature Kittiwakes have been frighteningly low the last two years (perhaps due to widespread colony collapse during the breeding season). I think we only had one individual last year as well. After lunch we slept through an afternoon rain storm and then decided to go check the activity at seawatch. We got sidetracked by a Bluethroat that darted into the Boatyard. After tracking it down we bumped into Aaron's group and decided to walk the Boatyard with them. It was a good thing we did because near the south end we kicked up a tiny olive-backed, yellow-bellied passerine that we eventually flushed up onto an old boat frame for pics - a Mourning Warbler!!! Only about the 6th record for Alaska. We watched a Slaty-backed Gull through rain covered lenses and then went searching for Tattlers around the lake, again with no luck. After dinner we successfully chased down the Buff-breasted Sandpiper found in the boatyard earlier and refound the Mourning Warbler on our way back north.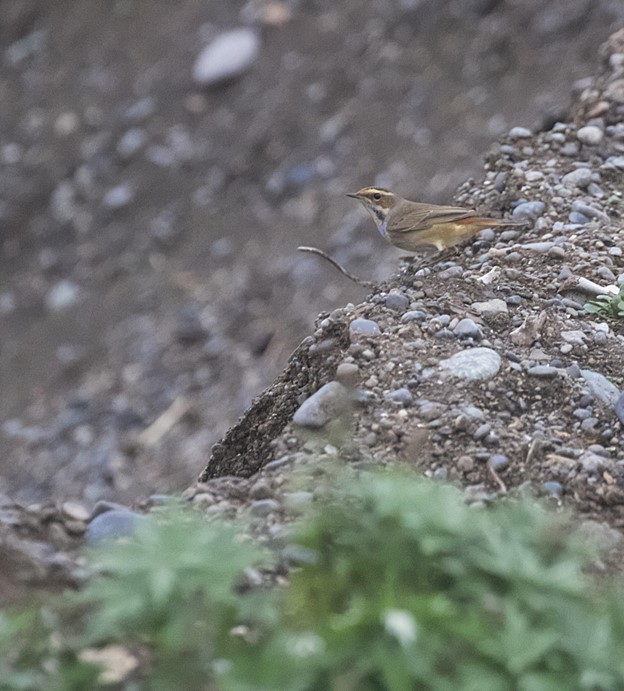 A rare moment with a Bluethroat in the open (above). Photo: Raymond VanBuskirk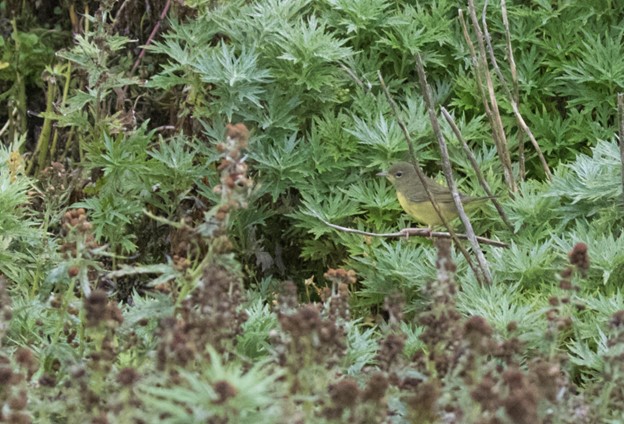 Sixth Alaska record of Mourning Warbler (above). Photo: Raymond VanBuskirk
September 8: Seawatch was again slower than you'd like, but we did manage to find a group of 3 Emperor Geese flying in from offshore. They hit the coast and turned south down the shoreline giving nice views. With this sighting we managed to add at least a new trip bird everyday at seawatch, which was a nice goal to achieve. Boneyard birding was slow, with not much change overnight. We encountered a couple of Golden-crowned Sparrows but nothing else new. Most of the birds from the day before had left though I heard someone kicked up the Mourning Warbler again in the afternoon. In the afternoon we drove out to Ooynik Point where we enjoyed some close views of Harlequin Ducks off the rocky point. The marshes at the south end were virtually birdless, but such is the case this time of year. We had great weather in the afternoon and our beach drive back to town was very enjoyable with some nice studies of gulls, including one 1st cycle Glaucous Gull choking down a Crested Auklet whole!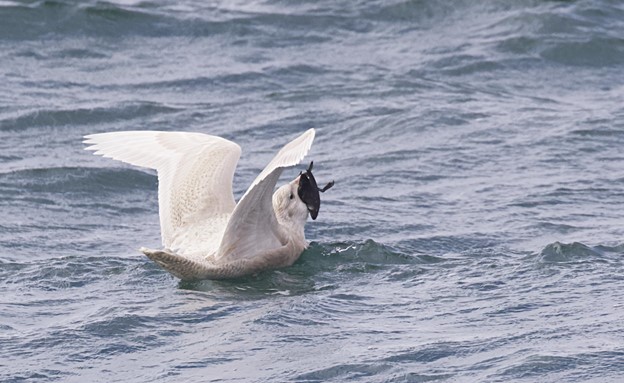 Yummy! A first-cycle Glaucous Gull swallows a juvenile Crested Auklet whole (above)! Photo: Raymond VanBuskirk
September 9: We mostly spent the morning packing our lunches and organizing our bags for departure. We said our final goodbyes to Debbie and caught our flight right on time. In Nome, arrival logistics were quite smooth. There was even a BBQ outside the terminal when we arrived - Bering Air Customer Appreciation Day!
After a quick stop at the hotel we were off down the Council Road with some time spent enjoying a large herd of Muskox near Cape Nome. It wasn't all about the Oxen though, as a juvenile Northern Shrike was hunting the alder stands along the cape.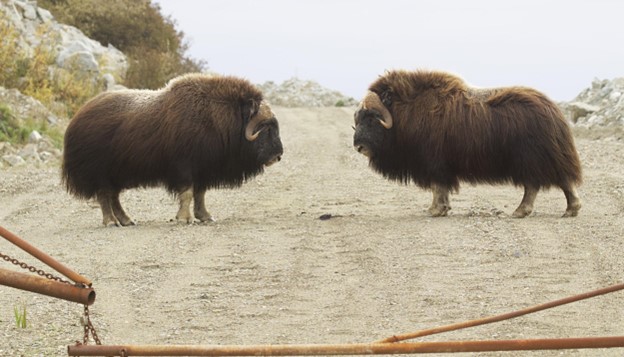 Muskox road closure: Seek alternate route (above). Photo: Raymond VanBuskirk
At the cape itself we found a very close Spectacled Eider mixed into a raft of Kings which allowed for great comparison, and Steve spotted a Double-crested Cormorant (a scarce bird in these parts though they seem to be expanding). At one point the cormorant landed alongside some Pelagics affording us a nice comparison. The Safety Sound was teeming with waterbirds, not the least of which were 400+ Tundra Swans, and thousands of American Wigeons (with at least two Eurasians folded in). Shorebirds were scarce overall but we managed to find a few, including killer looks at a juvenile Red Knot next to a juvenile Bar-tailed Godwit. While Raymond was photographing the shorebird duo Susan spotted a distant loon that she wanted him to have a look at, hmmm; cold gray hood, lumpy head, white rear flank spur… Arctic Loon! We also spotted our second Slaty-backed Gull for the day.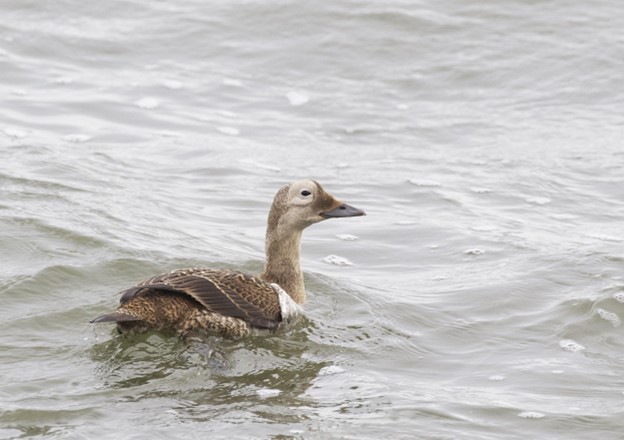 Spectacular view of Spectacled Eider (above). Photo: Raymond VanBuskirk
September 10th: We made the morning count, with a delicious breakfast at Pingos and a drive to Cape Nome. We didn't find much along the way but we did find the same group of Eiders as the day before, this time with a Steller's Eider mixed in. A juvenile Arctic Loon floated close-by at the end of the Cape, and a flyby flock of Surf Scoters and Long-tailed Ducks was very nice. We caught our plane back to Anchorage without issue and said our goodbyes.
ST PAUL ISLAND
September 11th: The group gathered in the morning, shortly after breakfast, for introductions and then headed out for a nice half day of birding in the Anchorage area. We'd originally planned to leave for St Paul today but the Ravn Air flight schedule changed somewhat last minute (after we'd all already purchased our arrival flights) so we adjusted our departure flights and added an extra day of birding on the mainland, affording us a few species we would've missed on this tour otherwise; birding logistics in Alaska are never straightforward, no matter how hard you try. We started the morning at Connor's Bog where we had gorgeous views of Pacific Loons in breeding plumage, and sifted through large rafts of ducks including some very nice Barrow's Goldeneyes. Songbird activity in the northern woodlands is really slowing this time of year but we still managed to encounter a nice mixed flock with fabulous up-close views of Boreal and Black-capped chickadees, Slate-colored Juncos, and Orange-crowned and Yellow warblers. A few folks glimpsed a Brown Creeper moving amongst the other birds in the flock. At the Westchester Lagoon we enjoyed watching the nearby waterfowl, including a couple of Red-necked Grebes still in breeding plumage. This may be the best place on the planet to study the differences between Greater and Lesser scalps. Nearby on the coastal trail we found a small flock of Bonaparte's Gulls. We stopped for lunch at the Middle Way Cafe and then headed to Potter's Marsh. On the marsh boardwalk we had a nice view of a Common Merganser and watched a female Mallard choke down a sizable fish, which was a new experience for all of us! On the south end of the marsh was a flock of Trumpeter Swans. After leaving the marsh a few folks headed to pick up some extra gear in town and stopped for ice cream along the way. We enjoyed our first dinner together at Piper's and went over logistics, birds, and set expectations for the tour.
September 12th: St Paul travel days are always a bit nerve wracking, but the flight left on-time and arrival was smooth, with only a short refueling stop at Cold Bay. Once on the island we were greeted by our fabulous local guides/hosts, Sulli Gibson and Nathan Goldberg. We checked into the hotel as quickly as possible and headed out for a bit of birding before dinner. We hadn't even left the hotel property before we were enjoying the flocks of Pribilof Island (umbrina) Gray-crowned Rosy-Finches. These Rosies are 20-30% heavier than their mainland counterparts and have very dark brown plumage and all gray heads. We made a quick stop at Weather Bureau Lake to watch the Black-legged and Red-legged kittiwakes bathing in the freshwater. Every now and then the bathing kittiwakes would flutter up out of the water, and hover low over the surface exposing their namesake leg colors. A flyby Rock Sandpiper marked yet another new bird for most folks on the trip. Nearby at Salt Lagoon we spotted the long-staying Steller's Eider and had our first looks at Red-faced Cormorants marking species number 700 for Steve's ABA list - congrats! Just around the corner we found a vocalizing Wandering Tattler. After dinner we headed to Pumphouse Lake for a little marsh crawl, flushing Sharp-tailed Sandpipers, Long-billed Dowitchers, Pectoral Sandpipers, and Red-necked and Red phalaropes.
September 13th: We started the day at Marunich Point and wandered along the shoreline hoping to flush passerines from the eroding shoreline. Songbirds were few and far between but the sunrise was spectacular. We enjoyed distant views of Yellow-billed Loons, and a very large raft of King Eiders. Further down the shoreline we had spectacular views of a vocal Gray-tailed Tattler dancing along the surf line, practically at our feet. After Marunich we headed to Main Crab Pots for our first round of pot-whacking! We didn't find much in the way of songbirds but we did have some very nice views of the local subspecies of Pacific Wren.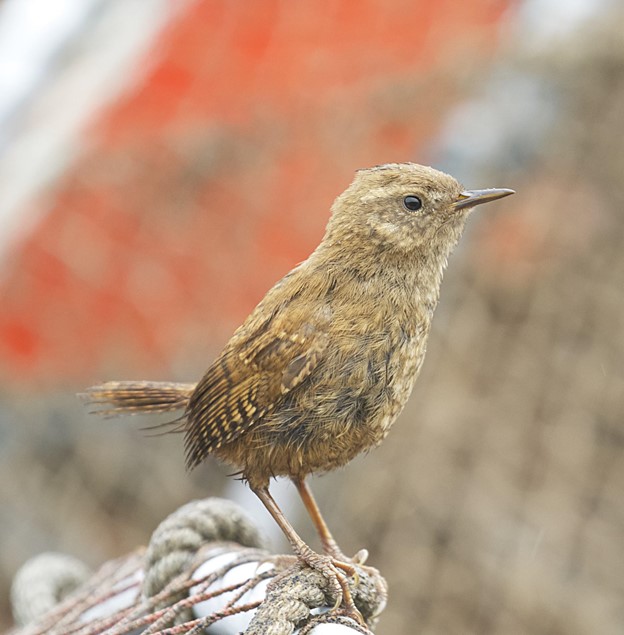 The local island subspecies of Pacific Wren trying to figure out why we're walking around the crab pots hitting them with a pole (above). Photo: Raymond VanBuskirk
In the afternoon we visited Reef Cliffs and Seal Blind for some up-close looks at the island's nesting seabirds and thousands upon thousands of Northern Fur Seals hauled out along the shoreline - the sights, sounds, and smells are not likely to be forgotten anytime soon.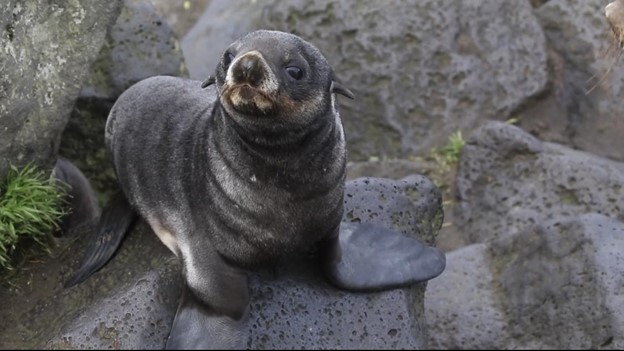 One of the Northern Fur Seal pups (above). Note the external ears, differentiating them from the Sea Lions. Photo: Raymond VanBuskirk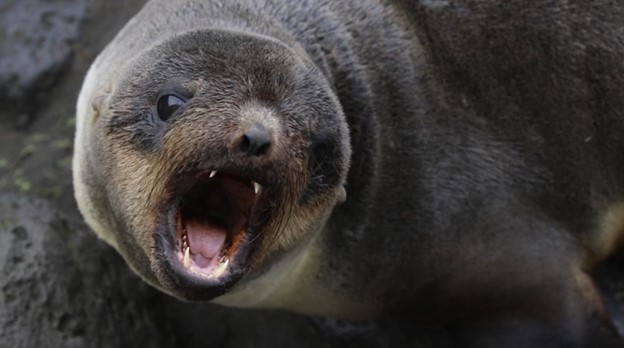 Don't mess with me! Subadult Northern Fur Seal (above). Photo: Raymond VanBuskirk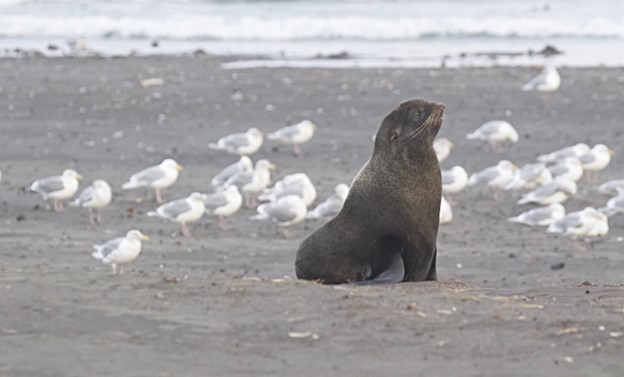 A Northern Fur Seal trying to be a Glaucous-winged Gull (above). Photo: Raymond VanBuskirk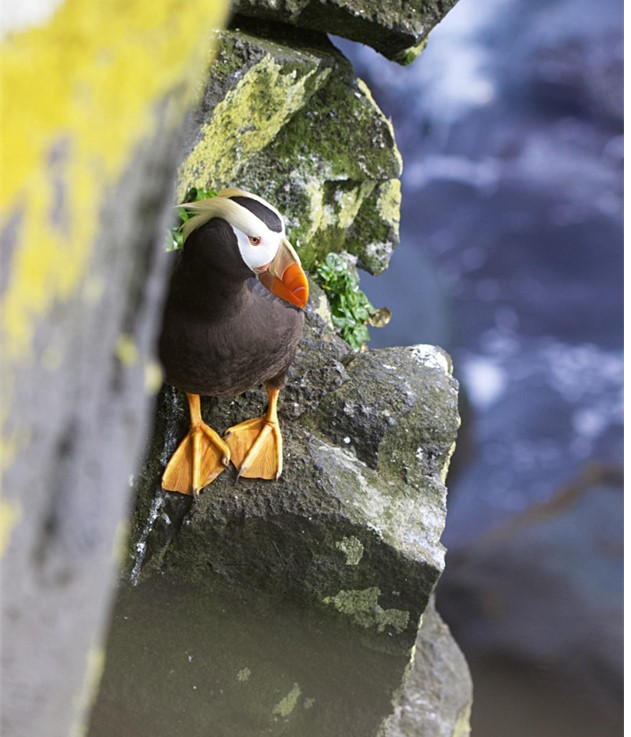 A breeding plumage Tufted Puffin at Reef Cliffs (above). Photo: Raymond VanBuskirk
As we were making our way back toward the middle of the island we got a call from Sulli - male EURASIAN BULLFINCH in the Kamanista Quarry! Nathan stepped on the gas and before long we found ourselves in an old collapsed lava tube, surrounded by massive rocks, looking for a single bird (though thankfully very distinctive). Shortly before we arrived it flew off with a group of Snow Buntings and now our job was to refind it. I took the upper level of the quarry while the rest of the group walked with Nathan and Sulli below. As we neared the end of the quarry Nathan glimpsed the bird as it flushed off-trail into the "upper cut", a particularly treacherous section of the quarry. Nathan and I elected to climb up into the uppercut and navigate the unstable rocks and deep trenches to try and bring the bird back around for folks to view. We did eventually refind it, but it wasn't cooperating, and eventually we decided we'd need to flush it all the way down the length of the upper cut before we could get it back in the main canyon where participants could hope to see it. Some time went by but things were playing out just as we'd hoped. We coordinated with Sulli to get the group in position and we made a final gentle push, sending the spectacular finch over the lip of the quarry and right into everyone's view. High-fives and joyful chatter all around! Once back in the main canyon we were able to study it for prolonged periods in the scope. This is only the 6th island record, and the first since 2012, it also marks the earliest record ever for Alaska. The trip was arguably made by this bird, but many others lied ahead.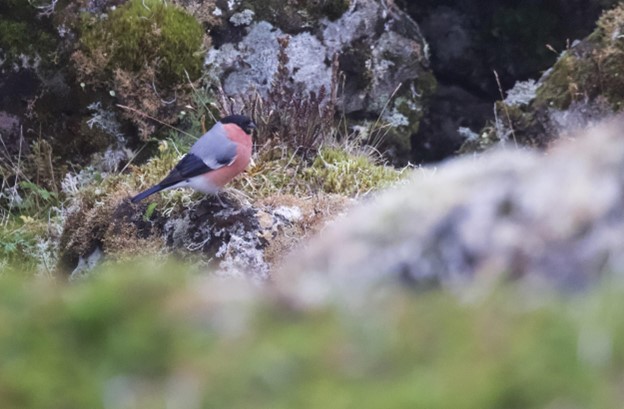 The absolutely jaw-dropping male Eurasian Bullfinch in the Kamanista Quarry (above). Photo: Raymond VanBuskirk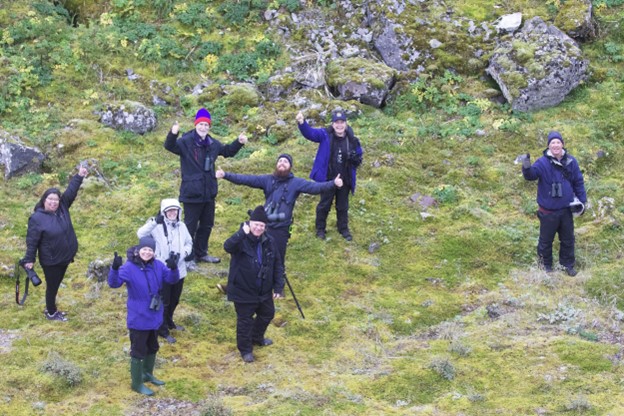 Lots of happy birders! The Eurasian Bullfinch was a lifer for everyone on the island, including all leaders (above). Photo: Raymond VanBuskirk
September 14th: We spent the morning hunting for more vagrant passerines around the island without much luck but we did bump into a couple of very nice Slaty-backed Gulls on the Zoltoi Sands beach. We also stopped to have another look at the family of Arctic Foxes at Salt Lagoon harbor.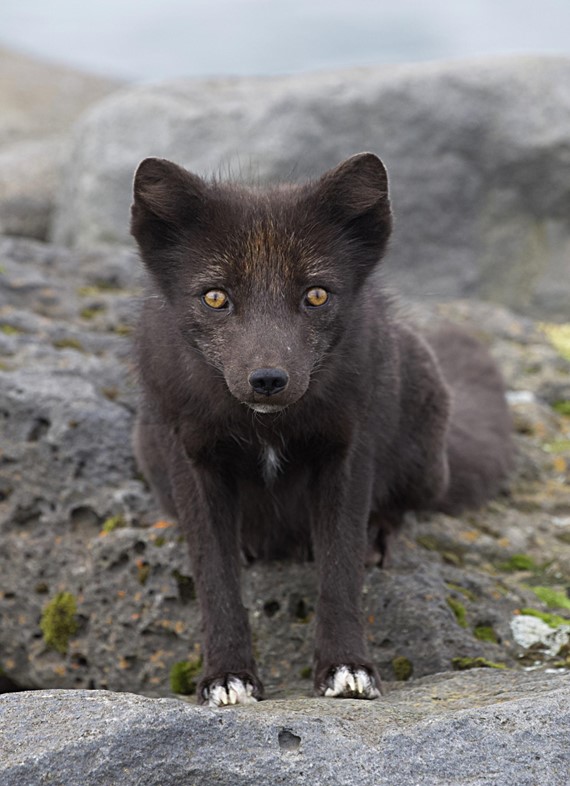 An up close look at a St. Paul Island Arctic Fox (above). The foxes on the island all have beautiful dark grey or black coats. Photo: Raymond VanBuskirk
In the evening we went on a good ole fashion snipe hunt at the Antone Sough, where a Common had been seen earlier in the day. After a lot of walking, and some circling back, we were able to flush the Common Snipe. Most views were in less than ideal lighting but the leaders manahed to get a few photos, while others in the group were able to make observations of the pale underwing coverts and thick white trailing edge to the wing. Nathan's photos of the snipe were particularly reassuring since Raymond and Sulli's were a bit underexposed giving the underwings a grayish appearance (whoops).
September 15th: Though not originally planned this way, today was our new departure day since a very large storm was making its way to the island from the Japanese coast and winds were expected to blow up to 90 mph, potentially causing a massive storm surge. Our regularly scheduled flights weren't to leave until the 16th but the airline had already canceled that flight due to storm predictions with no other flights coming in for multiple days. We elected to bird like crazy until just before the afternoon flight back to the mainland. We birded hard, starting the morning at Ridge Wall, where we stood in awe as Northern Fulmars, both puffin species, Red-faced Cormorants, and Red-legged Kittiwakes made close flights along the edge of a steep cliff that plummeted hundreds of feet down to the ocean below. Sometime in the days leading up to today the Red-legged Kittiwakes made their mass exodus off the nesting cliffs but there were still a few immature in the area and at least one adult flew in and perched on the cliff, showing off its waxy red legs and feet.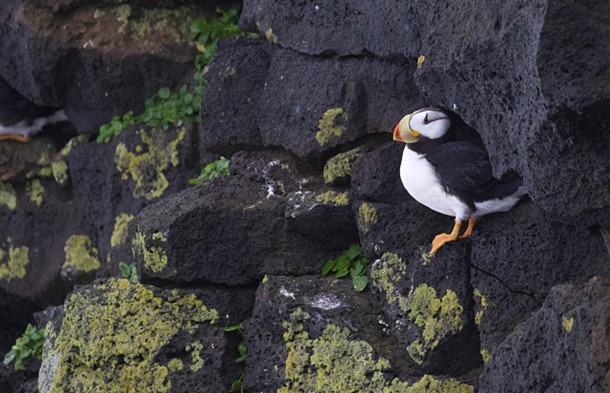 Horned Puffin tucked away on a cliff edge (above). Photo: Raymond VanBuskirk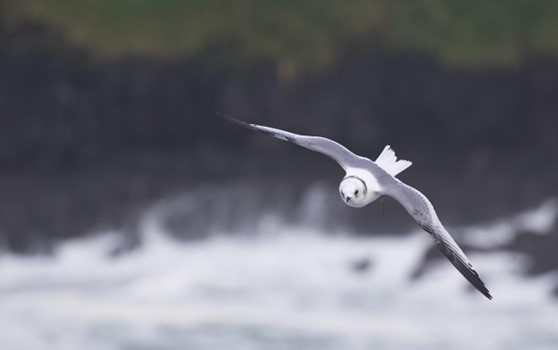 Immature Red-legged Kittiwake riding the wind at Ridge Wall (above). Photo: Raymond VanBuskirk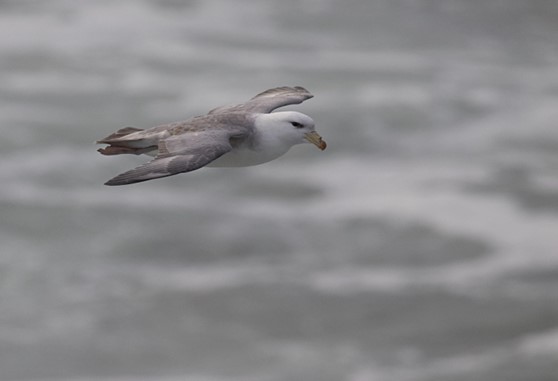 A Northern Fulmar inspects the group from the safety of the wing (above). Photo: Raymond VanBuskirk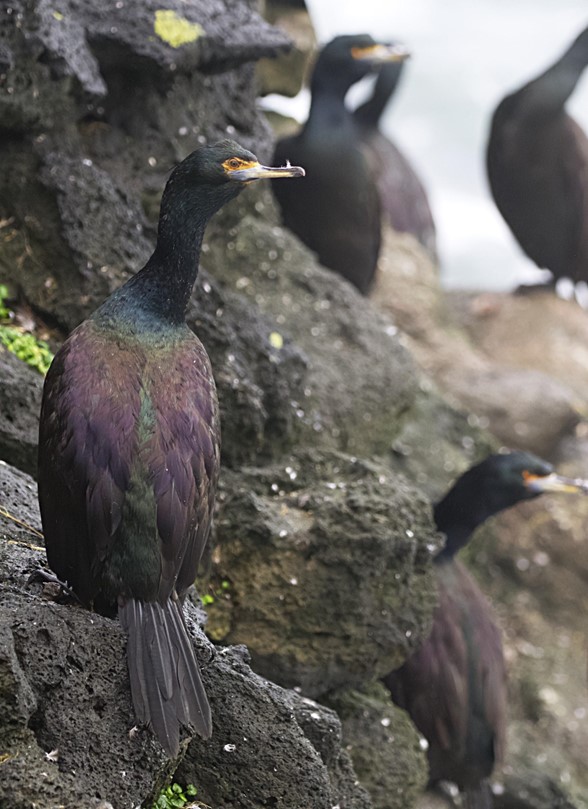 Red-faced Cormorants are spectacular when seen in good lighting (above). Photo: Raymond VanBuskirk
On the way back from the cliffs were stopped to scan Antone Slough for the long-staying Brant and Eurasian Wigeon. The Brant was there but there was no sign of the wigeon. As we were preparing to move on Nathan called Raymond over to his scope to confirm that he wasn't losing his mind - it was the Spotted Redshank, tucked all the way on the far end of the lake in a tiny marshy cove. This bird had arrived in the week leading up to our trip but disappeared shortly before we got there. What a treat to see this mega rare shorebird, and only hours before our early departure. We made our way around the lake and walked in for closer views! There were celebrations all around. With only a little time left before departure we made our way out to Little Polovina Lake and finally connected with a Eurasian Wigeon which was new for the trip. We headed back to airport, said our goodbyes, and headed back to the mainland after an absolutely fabulous few days on the island.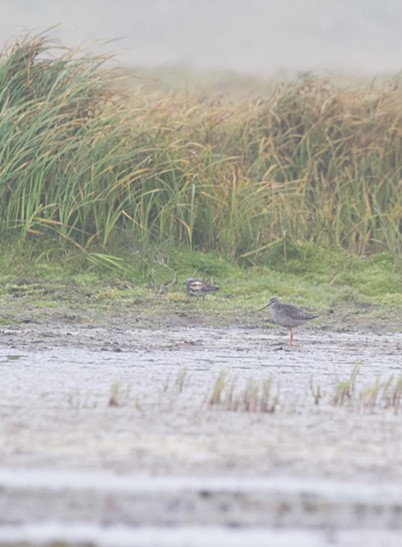 Spotted Redshank with a Ruddy Turnstone in the back (above). Photo: Raymond VanBuskirk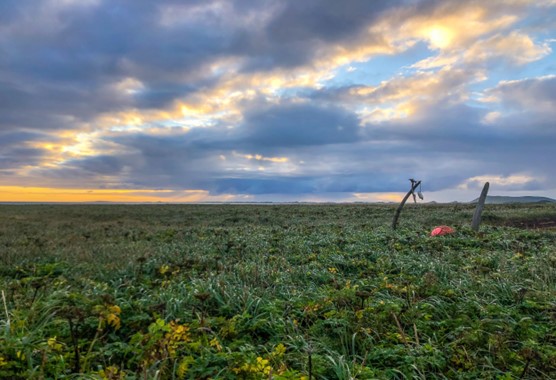 Sunrise over the celery (above). Photo: Raymond VanBuskirk
-Raymond Vanbuskirk
Updated: November 2022