Signs of an early spring were apparent as we covered just under 1,000 miles of Nebraska's (mostly) backroads. The mature hardwood forests of the Missouri River had yet to push out leaves allowing great views of resident species as well as many lingering wintering individuals. Typical forests birds including Black-capped Chickadees, Northern Cardinal, and White-breasted Nuthatch were abundant. A northbound Golden-crowned Kinglet even came in at eye level to investigate our curious optics, replete with flaming yellow head stripe. Waterfowl numbers were excellent and we came across 27 species with highlights including several day's encounters with Wood Ducks, Blue-winged Teal, Common Goldeneye and all 3 merganser species.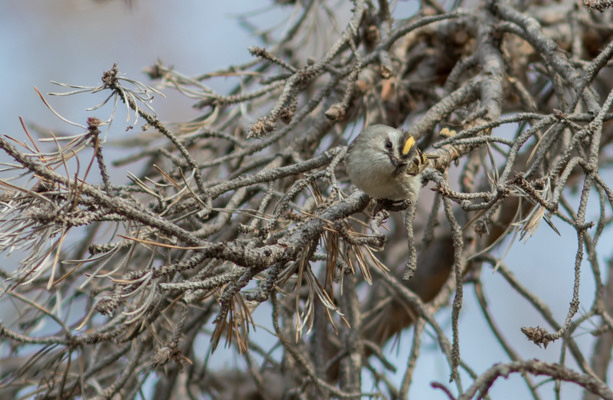 An inquisitive female Golden-crowned Kinglet displaying its golden crown
The brushy verges of eastern Nebraska's woodlands host an impressive array of sparrows; Song, American Tree, "Red" Fox, and the Midwestern specialty Harris's Sparrow all perched nicely for extended viewing opportunities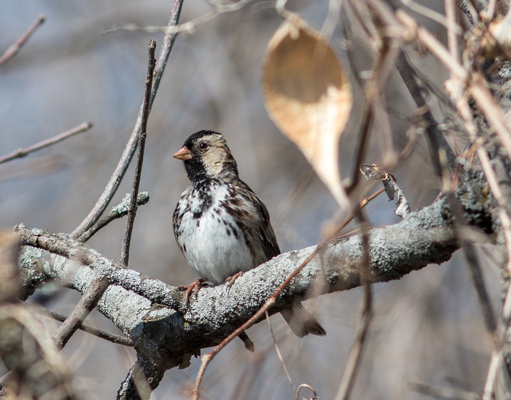 A perched Harris's Sparrow, a Midwestern U.S. specialty
To say we saw many Sandhill Cranes would be an understatement. There's really no words to describe the spectacle that is their migration through central Nebraska. Wave after wave, thousands upon thousands, of Sandhill Cranes poured over constantly at both sunset and sunrise. These weren't the only birds utilizing this rich environment. Other species including Snow and Ross's Goose, Canada and Cackling Geese, and both Trumpeter and surprise Tundra Swan were all passing through this amazing stretch of river.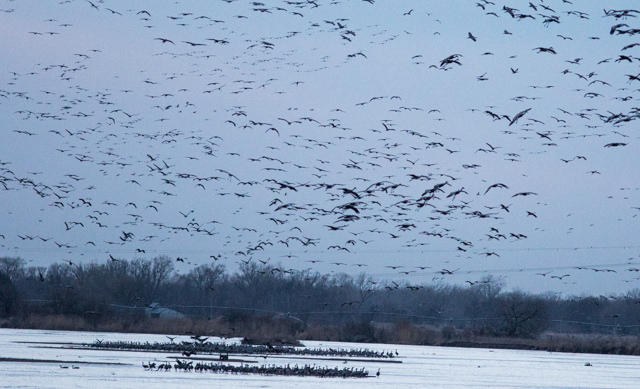 Countless Sandhill Cranes pouring in at sunset
Mullen Nebraska lies in the middle of the vast Sandhill country in the northwestern part of the state. Here we had another unforgettable experience as we watched the debonair dance moves of both Greater Prairie Chickens and Sharp-tailed Grouse. The chickens hooted loudly while expanding their yellow throat sacks and strutted back and forth sizing each other up on their lek. The fighter jet display of the Grouse was taking place even before the sun came up. With tails raised the males stomped their feet and glided by one another only occasionally fighting over the perfect piece of land.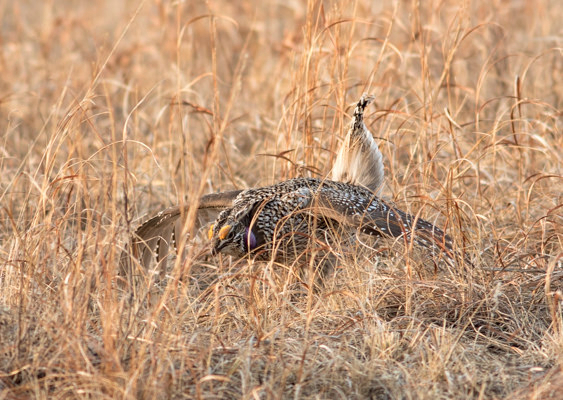 Male Sharp-tailed Grouse in full regalia
Our group was filled with locals and far flung visitor's alike and everyone enjoyed the unseasonably warm temperatures, great conversation, excellent food, and constant avian presence over the five days we were together. Perhaps this is why 101 species of birds were seen in such a short amount of time.
Posted: April 11, 2017