Miscellany
May 20: Significant price reduction on our August 2013 Colombia tour
Sunbird has turned over this tour with utter confidence to our brilliant in-country tour leader, Trevor Ellery. By no longer including a Sunbird staff leader in the mix, we have been able to reprice the 20 day tour at $6650, a reduction of more than $1300.
May 3: Congratulations Chris Wood - A New US Big Day Record
WINGS leader Chris Wood and his colleagues at the Cornell Lab of Ornithology's Team Sapsucker just obliterated the US Big Day record with an astounding 294 species in a single Texas day — 30 species more than the previous record. Initial estimates suggest the team will raise some $300,000 for Cornell's conservation programs and eBird. Find out more about the day here, and about the weather that facilitated such an amazing run here.
January 25: Price reduction for the Guyana tour
The in-country ground costs for Gavin Bieber's October 2-15, 2013 Guyana tour have been reduced, dropping our tour's price from $5900 to $5400.
December 2: Rich Hoyer on his recent scouting trip to Brazil's Mato Grosso
I had visited the Pantanal only once but already knew most of the birds there; this time, however, we were driving all the way south to where one has the best chance anywhere to see Jaguar. We also were going to spend a couple days in the Chapada dos Guimarães, smack in the middle of the continent where I had birded a couple times, but not since five years ago. I definitely needed a refresher in these areas. Then we planned to visit my Brazilian "home" at Cristalino Jungle Lodge in the far north of the state, the best access to the southern Amazon Basin, what I call the "back door" to the uppermost tributaries that flow north toward the magnificent river.
Having met at the departure gate in São Paulo, my friend Doug and I quickly acquired our rental car upon arrival in Cuiaba, and with good directions from the guy behind the desk started off for our hotel a couple hours to the north. Well, at least we thought we had good directions. After confidently passing just outside the city center and spotting all the mentioned landmarks without getting totally lost, our road turned into something of a dead-end in the outskirts – we must have missed our turn in this big city that few Americans have even heard of. But my Portuguese was still good enough, despite a few months of disuse, to ask a gas station attendant for directions. Soon we were on the main highway out of town, headed to the Chapada dos Guimarães, its tall cliffs draped in exotic vegetation and harboring many exciting species.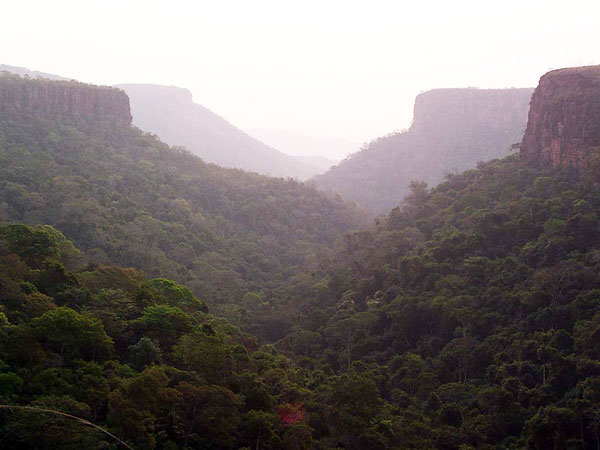 Chapada dos Guimarães scenery
But only a few miles down the main highway I had to come to a screeching halt – right on the roadside were a flock of gorgeous Peach-fronted Parakeets, feeding on the 6-foot tall drooping heads of the seeding grasses of the unmown shoulder. What a great way to start the trip! It was tempting to get out of the vehicle to see what other birds might be in the tropical thickets, hedgerows, and tropical trees, but we didn't want to have to navigate to our hotel in the dark.
Our lodging up on the plateau was the same place I had stayed at once before on a private tour, but I had forgotten what a great setting it boasts.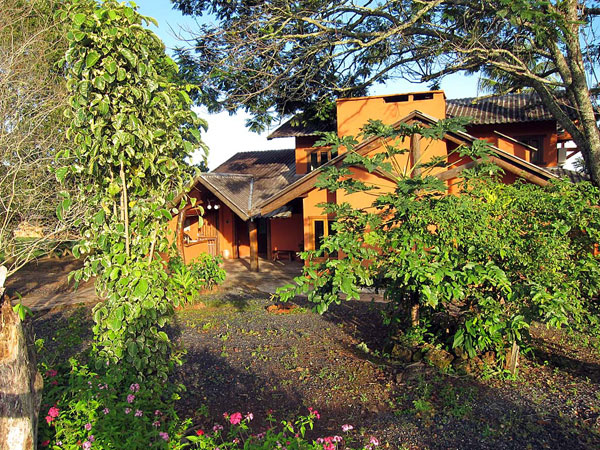 Pousada-do-Parque
It's located on a private inholding within the Chapada dos Guimarães National Park, and you have to even go through a gate and down a dirt track of a few miles to get here. Lots of habitat, no traffic, no noise, and a gorgeous sunset. Perfect. But we as have only one full day to bird here this time, we won't get a chance to really do it justice – there are several sites with special habitats we have to visit elsewhere. But we did very well in those habitats. In the short, dry, scrubby forest on sandy soils we quickly connected with White-banded and White-rumped Tanagers, both rather noisy and conspicuous. We worked the habitat a bit more and finally came up with a Chapada Flycatcher pair and then a subtle yet beautiful Collared Crescentchest – Doug's first Melanopareiid. I eventually got a lifer today as well: a Southern Antpipit in a small patch of humid forest responded vocally to playback from quite a distance and, after a great delay, by appearing only a few feet away in virtual silence, making only a few quiet bill snapping sounds. What a strange bird – hard to believe it's in the tyrant flycatcher family.
Then came our long drive all the way back to Cuiaba and beyond, through Poconé and the gateway to the northern Pantanal, then to the very end of the dirt road. We thought we could ignore the flocks of herons, egrets, storks, and ibises, Scarlet-headed Blackbirds, and White-headed Marsh-Tyrants, but we couldn't and arrived at our destination over an hour late. No matter in the end. With a switching of nights at our lodges, we netted Pale-crested Woodpecker, Mato Grosso Antbird, and a few other goodies in the morning, had our boat ride on the Cuiabá river in the next afternoon, and just as we had been nearly promised, I spotted a huge Jaguar face looking out from under the low vegetation on the bank. We had been aware of another boat on the river when we first set out, but we were unprepared for our boatman's radio calls to result in three additional boats alongside us within the minute. Apparently there had been a few other boats out looking for jaguars, and we were the lucky ones to get on one first. The animal bored with us after a few minutes and walked off into the shadows. We lingered a bit, let the other boats try to catch with another spotting of it, then moved up a bit to discover that the others had found it resting a new spot, this time his gorgeous face illuminated in the dark shadows by the sun reflecting off the smooth river surface. When it left again, the photographers tried the same tactic while we lingered back, distracted by a Boat-billed Heron. Then we noticed that the jaguar hadn't walked farther downstream at all but had entered the river and was swimming across it right in front of us. Amazing.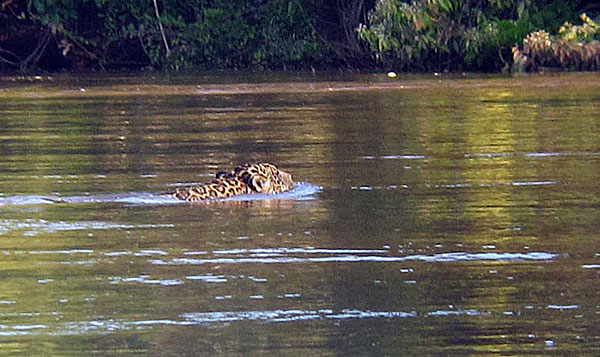 A Jaguar swins across the Cuiabá River
We had another full day and a morning in the Pantanal, and we made the most of it, taking another boat trip in the first morning (where I finally saw my lifer Ashy-headed Greenlet) and then working the 70 miles of road to our lodging at Pouso Alegre at a leisurely pace. The best sighting was a flock of my long-wanted lifer Nanday Parakeets feeding in some nectar-rich roadside Combretum flowers. We stayed with them for sometime,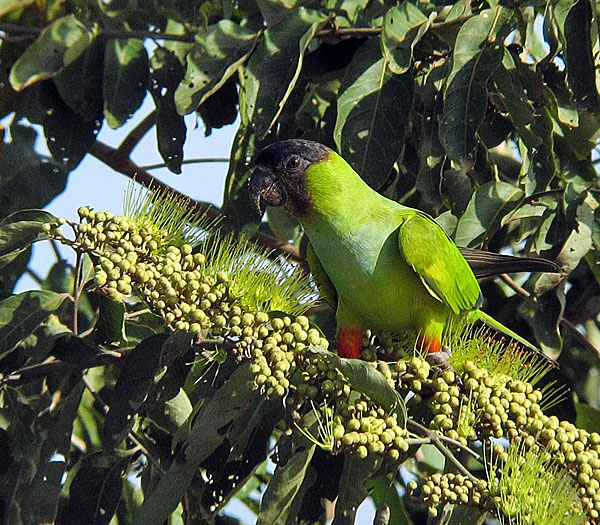 Nanday Parakeet
getting some nice photos before continuing and checking into our lodge. That evening we drove the entrance road hoping for a Giant Anteater, but we had to settle for an imposing South American Tapir instead, not a bad tradeoff. Of course, the resident Hyacinth Macaws performed beautifully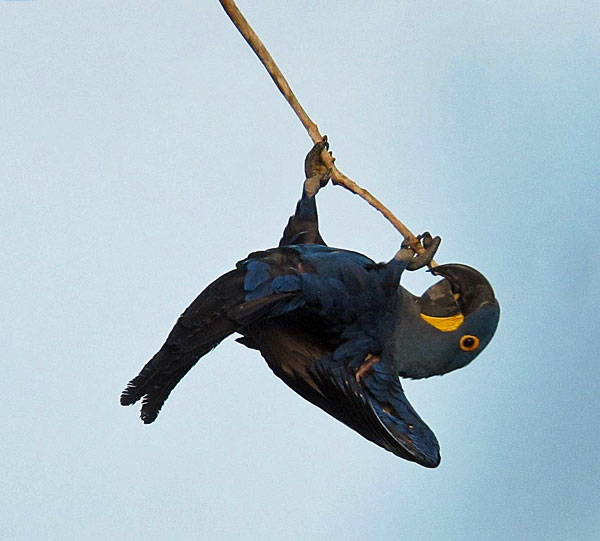 The spectacular Hayacinth Macaw
the next morning, and we waved goodbye to the Bare-faced Curassows and a Sunbittern as we took off for our next big swell of birds in the Amazon Basin at Cristalino Jungle Lodge.
We had left the Pantanal with about 225 species of birds in six days, so our first day at Cristalino was baffling as we added another 134 species by just walking trails and spending time on one of the awesome canopy towers. Over the next five days we'd add another 120 species, but given my experience here (I've spent a total of nearly seven months at the lodge over the past 8 years), it seems there's no end in sight to the new birds one might add. I even managed to add Violaceous Quail-Dove to my lifelist this time, a species I've looked for many times. An amazing sighting was a huge Harpy Eagle from the new tower, and we watched it for some 10 minutes as it changed perches a few times in distant huge trees with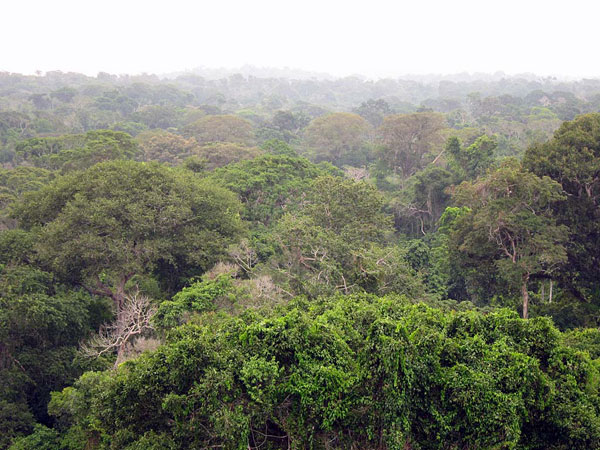 View from the new Cristalino tower...; sorry no Harpy Eagle in view
something in its talons. No wonder why the White-cheeked Spider Monkeys had been screaming bloody murder an hour earlier. Just moments after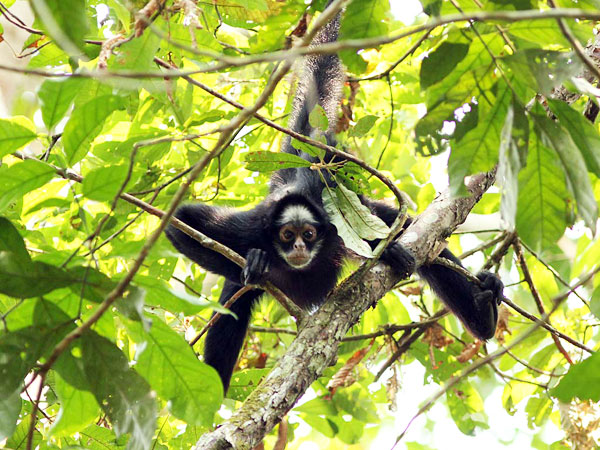 White-cheeked Spider Monkey
it finally disappeared, Doug spotted a Crested Eagle, a slightly smaller but even rarer relative, perched in a distant tree top. That might have been the first time both species were seen in a single tower visit ever. Another memorable experience was one very early pre-dawn morning visit to a trail upriver. We had seen where a Dark-winged Trumpeter had gone to roost for the night; by the time we caught up with it, it was too dark in the forest understory to see anything more than a vague silhouette. Our strategy the next morning worked out, as we stumbled upon the trumpeter's roosting tree before he had left it, and we were able to follow it when it flew to the ground and eventually got good looks at this improbable rainforest crane. Though the Cryptic Forest-Falcon eluded us, the remaining regional specialties of Kawall's Parrot, Black-girdled Barbet and Bare-eyed Antbird cooperated, and we had time to enjoy great views of so many other gorgeous birds.
We finished the total trip with an impressive 485 species of birds in just 10 days. We also had wonderful moments with several species of monkeys and some really fine butterflies. I can't wait to return.
November 8: A new departure for the Morocc0 in Spring tour
We've added a second departure to our Morocco in Spring tour, March 20-30, 2013, with James Lidster as leader
August 30: James Lidster's Wedding
James Lidster and Remke Vos were married August 24th in the Netherlands. In James own words, "Having proposed nearly 2 years ago, our wedding day came around incredibly quickly! It was the most perfect day, with great weather and surrounded by family and friends. We were even lucky enough that a Black Woodpecker flew past as we had our photographs taken on the heath! We are now off on 3 weeks honeymoon, that involves throwing a tent in the car and driving east. Within a day we will be through Germany and into Poland, with the Czech Republic, Slovakia, Hungary and possibly Romania lying before us. I will be home in time for the first WINGS tour to Portugal, closely followed by the Texel Dutch Birdng weekend, and tours to the Gambia and Ghana."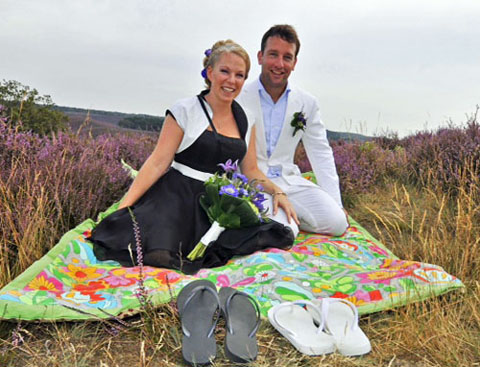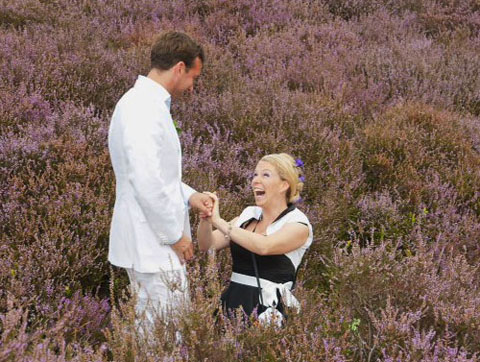 May 15: David Fisher on the recent 2012 Western Pacific Odyssey cruise
I just spent a spectacular month in the Pacific cruising from New Zealand to Japan. The WPO cruise, designed by Chris Collins for birdwatchers, is now in it's sixth year of operation. It was a fantastic experience on the Spirit of Enderby (below) with landings on New Caledonia, four of the Solomon Islands, and Truk in Micronesia. So with six days on-land (producing the Kagus on New Caledonia, White-headed fruit dove on Makira, Bare-eyed White-eye on Rennell, plus the beautiful Solomon Islands children, below) this meant we spent 23 days at sea - probably the longest and most exciting pelagic trip in the world.
This year's trip was extremely successful and we saw ALL the seabirds seen on previous trips as well as one or two new ones. I loved the whole experience. It was my first cruise and I wasn't sure how I would cope with that long on a boat, but I had no problems at all. The ship was great, the cabins were fine, the meals were wonderful, and the leaders and fellow passengers formed a great team.
Most of these photos were taken with a DSLR and a 400 mm lens, loaned to me by friends. Even with a long lens I quickly discovered that while albatrosses and boobies that circle the ship are easy to photograph, (see New Zealand Wandering Albatross, gibsoni, below) petrels and especially storm-petrels are not! So some of the real rarities such as Beck's Petrel, New Zealand Storm-petrel and the 'new' storm-petrel off Calendonia are regrettably not included. Regardless, the WPO is an experience not to be missed.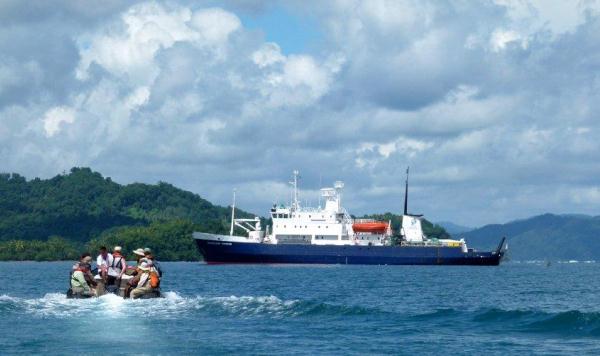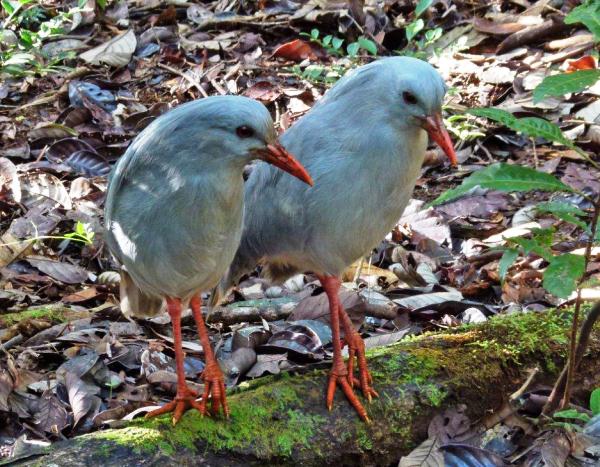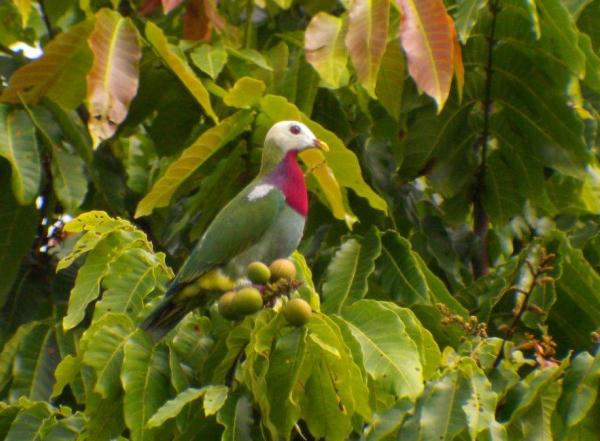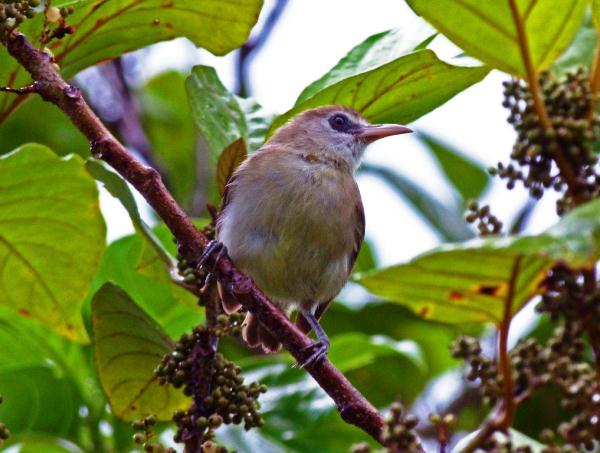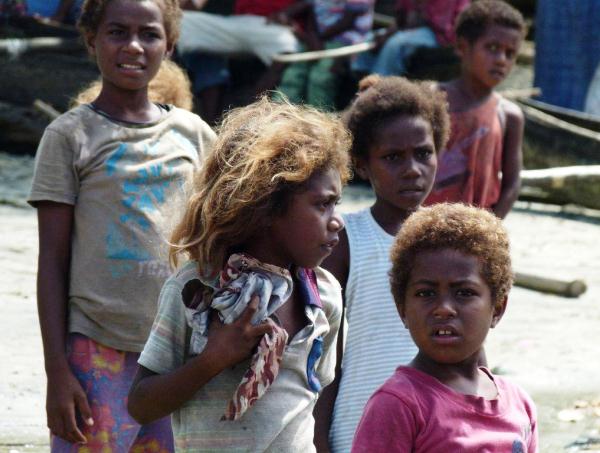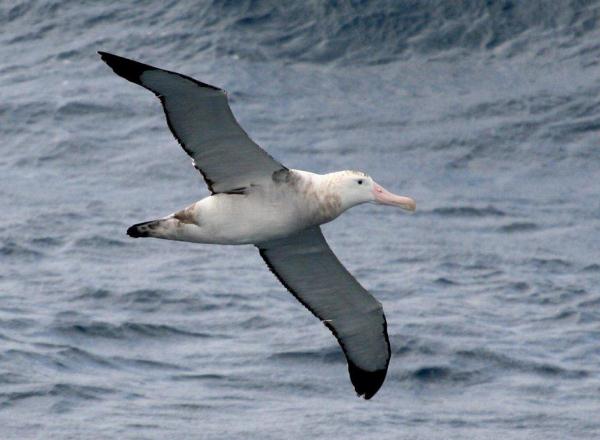 March 16: Brent Stephenson on recent Three Kings Pelagic
We just returned from a very successful 6th Annual Three Kings pelagic, and although not as incredible as last year's trip, we still scored some rarely-seen-in New Zealand seabird species. Last year we were absolutely spoilt with a new species for New Zealand (collared petrel), the first Tahiti petrel record in probably more than 20 years, and sooty tern and wedge-tailed shearwater (both very rarely seen from the New Zealand mainland). Still, this location has probably turned up more long-tailed jaegers than anywhere else in New Zealand, and we were not disappointed on this year's trip, with a number seen and one coming in for super close views. Black-winged, white-naped and a single Kermadec petrel were all seen well, and Wilson's, white-faced and New Zealand storm-petrel were also encountered. Great to see NZ storm-petrel there in small numbers on each of the days, though the breeding location of this species we rediscovered in 2003 still unknown.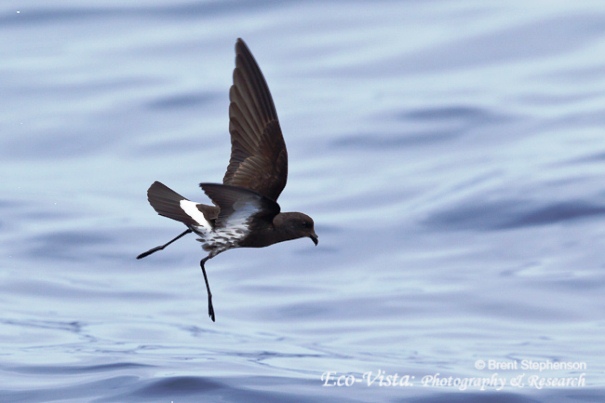 The year is shaping up to be a busy one. We are especially looking forward to our late 2012 tours and hoping to beat our record of 168 species seen during a tour. Of course it's not all about the numbers, we look forward to catching up with the endemics that make New Zealand such a special place.
March 10: Derek Lovitch's book is out
Derek's book, "How to Be a Better Birder" is out. Princeton University Press says, This is the ideal resource for intermediate and advanced birders. Whether you want to build a bigger list or simply learn more about birds, How to Be a Better Birder will take your birding skills to the next level.
Join him for the official book release celebration at www.freeportwildbirdsupply.com/ on Saturday, March 31st. Next, an event in New Jersey. He's also working on a summer/fall road-trip, so watch for details.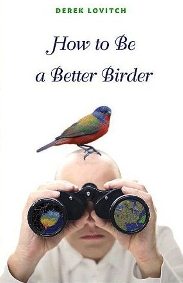 February 27: New Chris Wood publication
Chris and coauthors examine the interplay between birding, science, research and conservation and highlight ways in which birdwatchers are helping drive science and conservation in new directions. Details here
February 14: Read All About It!
Sunbird's February 2012 newsletter is hot off the press with juicy details about new tours, happy news about late availabilities, and recent tour reports with scintillating photos. New tours include James Lidster's PORTUGAL in Autumn, and SRI LANKA: Whales, Dolphins, and Leopards. And, don't miss the notable price reduction on SOUTH AFRICA: the Kalahari to the Cape with Steve Rooke.
Here's the link: http://www.sunbirdtours.co.uk/documents/FebNewsWeb.pdf
February 10: Paul Lehman at San Diego Bird Festival
It's that time again, and the San Diego Bird Festival is almost here. This year Paul Lehman will be leading the Gulls and Coastal Waterbirds Trip as well as riding shotgun on the other scheduled pelagics, March 1-4, 2012.
Along with fulmars, shearwaters and auklets, previous SDBF trips have included Black-footed Albatross, Manx Shearwaters, and Brown and Blue-footed boobies. Mammals also frequently encountered have been at least two species of whales (migrating Grays), two-four dolphin species, and of course sea lions, harbor seals, and possibly elephant seals. If you're at the festival, say hello!
January 31: Steve Howell's new seabirds book
Steve Howell's new book, Petrels, Albatrosses, and Storm-Petrels of North America: a Photographic Guide (Princeton University Press, 2012) hit the streets and seas in January, and has been well received on both sides of the Atlantic and beyond. It was "only" 15 years of gestation, 6 years of labor, and a year or so of delivery, before the book was born at 520 pages, 975 color photos, and about 4lb!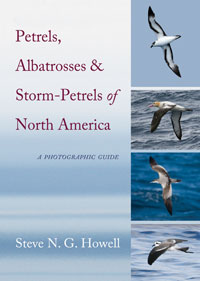 November 21: Rich Hoyer on his central Peru scouting
There isn't a single region of the large country of Peru that isn't worth birding, so deciding on where to scout an area that was new to me was a daunting task. So I chose the easy route and struck out in a rental car from the capital city and main airport hub of Lima. You wouldn't expect that some of the best birding would be located near such a large city, but within an hour's drive of the city one enters the valley of Santa Eulalia. Having seen how the desert of the Peruvian coast can be almost shockingly devoid of life, I was surprised to find on the slopes of this steep-walled canyon a grassy and brushy habitat that reminded me very much of the subtropical canyons of southeastern Arizona – they must have a very similar rainfallregime, just lacking the cool winter temperatures.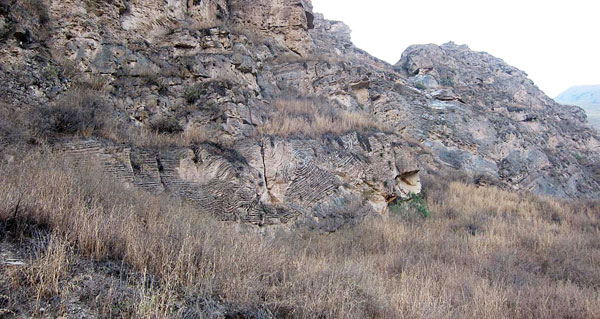 I was rather captivated by the plant life here, so resembling the post-monsoon thickets of one of my favorite birding spots in Arizona, Montosa Canyon, that it didn't surprise me to find one of the hallmark genera from there, the peculiar sunflower-family member Trixis.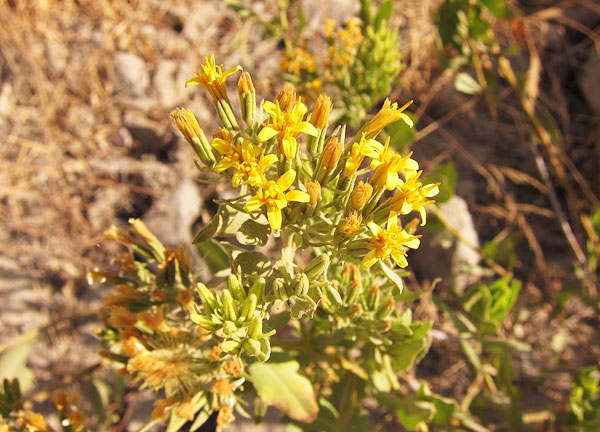 Then there were other plants in the very same family, such as this Mutisia acuminata, so different from anything in North America to remind me I was in the Andes.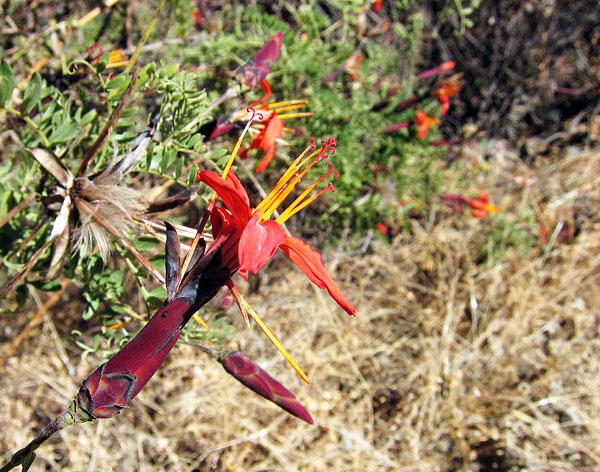 This plant especially grabbed my attention for it is one of the main hummingbird flowers in the valley. I found the stunning Sparkling Violetears to be abundant, but the occasional Giant Hummingbird, a few Peruvian Sheartails, and a single Oasis Hummingbird added interest. There were surely other species to be found in these and other flowers on the slopes, but I had a lot of ground to cover. My first night I found the accommodations in the cheerful little town of Huachupampa surprisingly nice for such a tiny place a long ways up a steep dirt track. That evening, Band-winged Nightjars flew around the town square as the village mayor's office broadcast announcements of upcoming event over a loud speaker.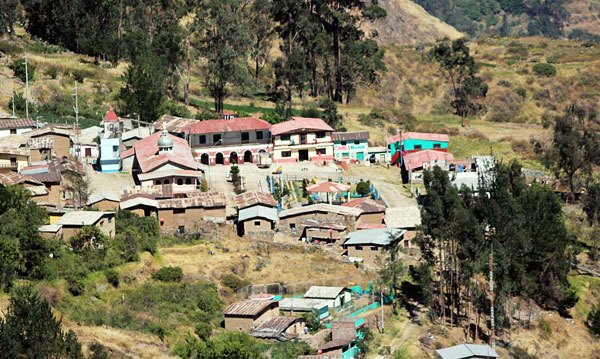 I birded the brushy ravines near the village the following morning, happy to find the endemic Rusty-bellied Brush-Finch to be quite common. While some of the other regional specialties eluded me, I didn't have time to really do the valley justice before heading to the higher elevations.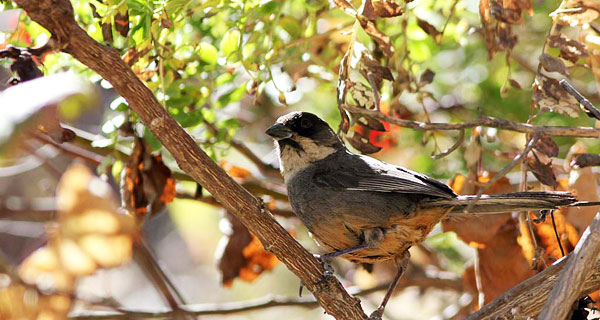 The highest reaches of the Santa Eulalia road end up at 16,000 feet (4875 meters) elevation, the highest I have ever been while on solid ground. The scenery up here was stunning.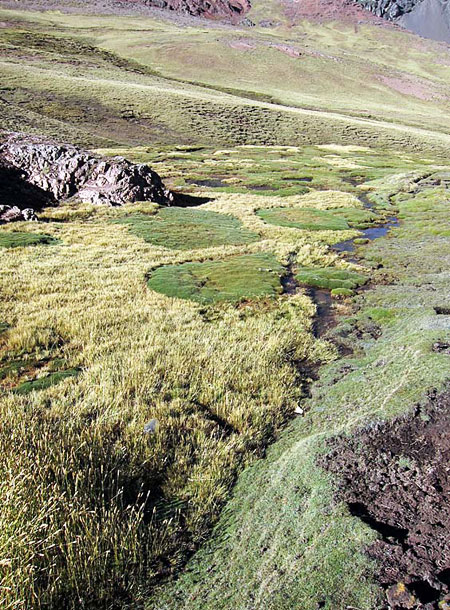 Having prepared myself with the tablets that help prevent altitude sickness (with the strange side effect of tingling fingers and toes), I still took it easy as I walked the dry tundra-like habitat and up the marshy draws. Short of breath, I was grateful to have evaded the headache and nausea this time. Several White-fronted Ground-Tyrants and a few Puna Ground-Tyrants flushed from underfoot as I looked for the rare White-bellied Cinclodes known to be here. I was happy to find one bird after about a half hour of walking – it was even bigger and brighter than I expected, though it was quite mobile and didn't let me get very close. I also flushed a small group of Andean Geese, striking in flight, and several Puna Snipe in the wetter areas as well. With more time I probably could have found the Diademed Sandpiper-Plover that many have found there, but I was happy knowing what the area looked like. Sharing the walking with a few more people would surely have faster results in any event.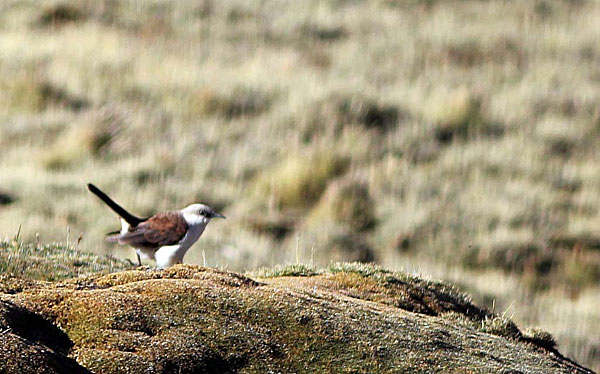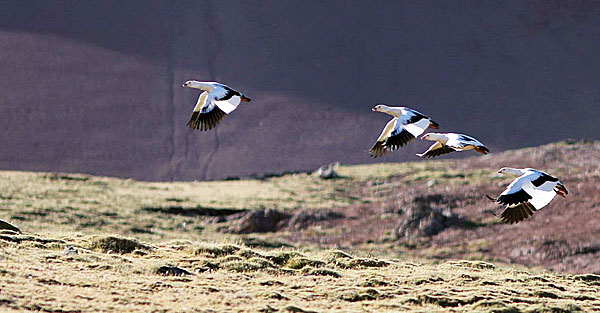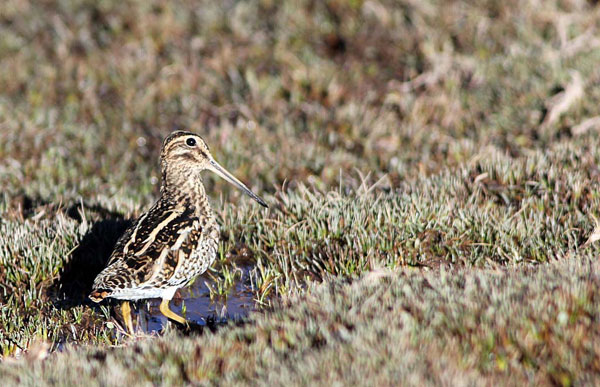 I then drove a few hours to a hotel closer to the Satipo River valley, a place I had heard a lot about. It's been compared to the Manu Road, but despite being much closer to Lima has not been as connected to main routes for very long. It's a smaller drainage and is known for at least one very range-restricted specialty, the Eye-ringed Thistletail. Outside groups have been trying to help the local communities in the higher elevations get started with providing ecotourism facilities, the lack of which has kept many birders from reaching this area. I thought it would be a good time to start learning the birds here, well in advance of the infrastructure being ready for larger groups.
There is actually a very nice country hotel I checked out that birders already stay at. It's not all that close to the Satipo River valley, requiring getting up at some ridiculously early hour in order to have enough time to bird there and get back the same day. But it's perfectly situated as a stop between there and the White-bellied Cinclodes spot. I'll certainly consider it for inclusion in a future itinerary.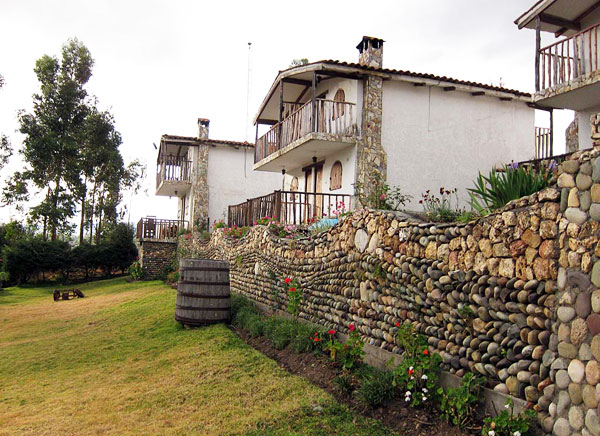 For my current purposes, the simple accommodations available in the little community of Calabaza worked just fine. For three nights I stayed in the one-room brick building across from the school while taking my meals in the little store run by a coupled named Felicita and Macario, helped by their two children Kevin and Fraysi. I enjoyed getting to know them during the times when I took a break from birding. Kevin would help Fraysi with her homework, or they would bounce a ball off the wall while Felicita was taking care of her new baby and shooing the chickens out of the store at the same time preparing meals for the group of highway workers who returned to town each evening.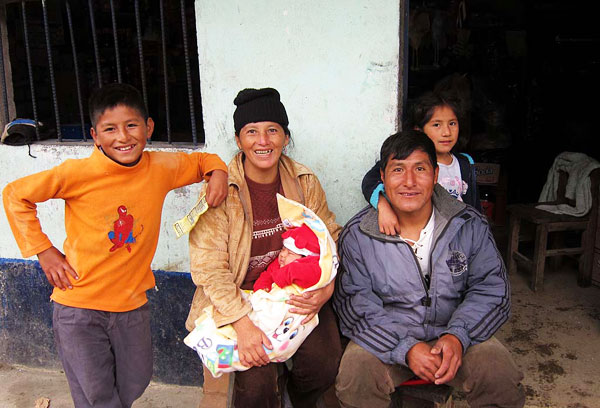 Little did they know that the moss-draped trees and bamboo thickets along the little-traveled road up from their house hosted such a fabulous avifauna. Flocks of Speckle-faced Parrots flew right over the village, and I woke up each morning to a dawn chorus that included Bay Antpitta.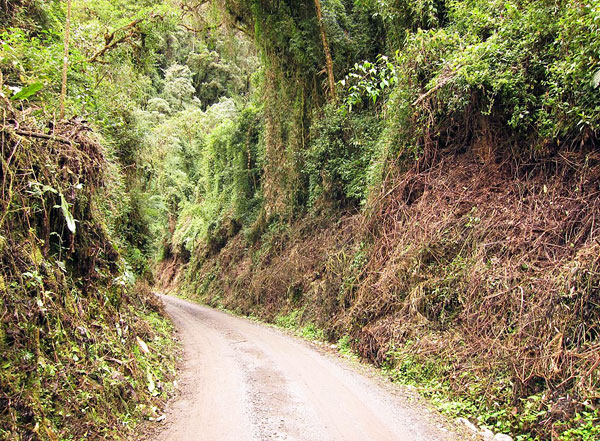 The elevations below town were quite birdy, and I didn't spend nearly enough time down here. I passed through here in the late afternoon was astonished to see seven Andean Motmots in just a few kilometers of road. This larger, greener form had been split from Blue-crowned Motmot by some authors and called Highland Motmot, but a recent analysis by Gary Stiles finally showed that there were multiple species within South America, and this new name was suggested. I've never seen it as common anywhere as in this valley.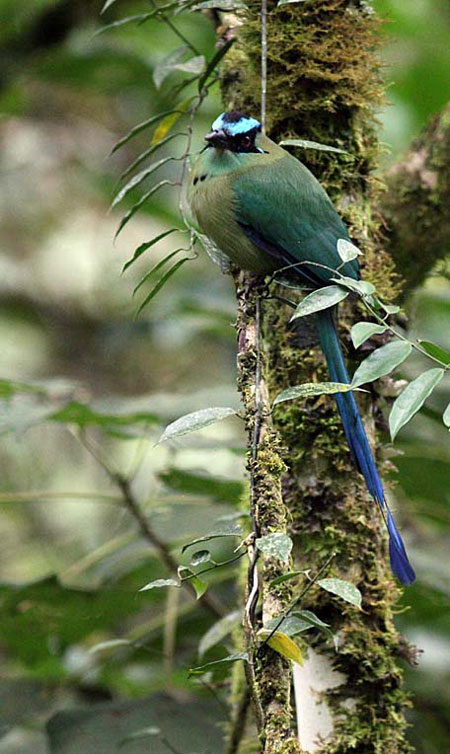 Most of my time here, however, was spent above Calabaza. Within the first kilometers of town I found several mixed flocks with birds I hadn't had much experience with before, such as Peruvian Wren, Tyrannine Woodcreeper, and Tricolored Brush-Finch. I managed to photograph a few birds:
Cinnamon Flycatcher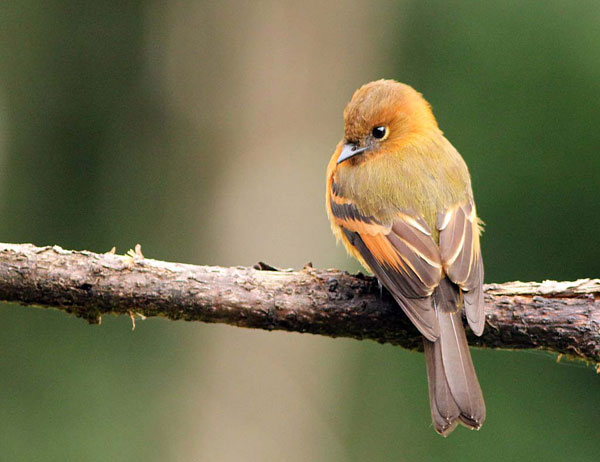 Mountain Wren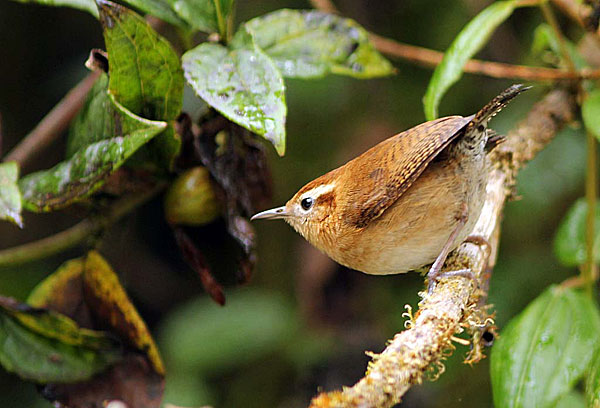 Peruvian Wren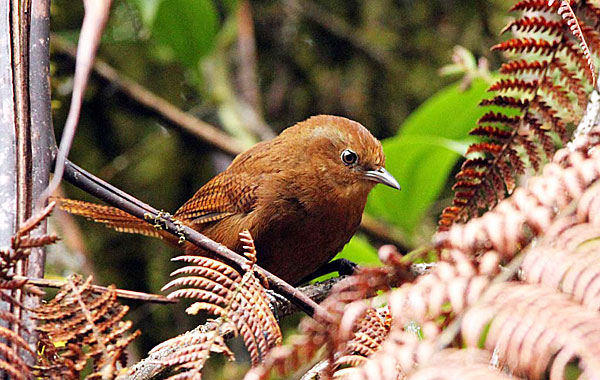 Rufous Spinetail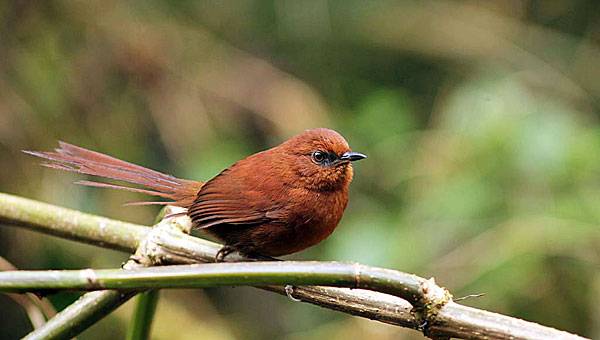 One of the more exciting finds just above town was this White-rumped Hawk, which I had only seen in flight before.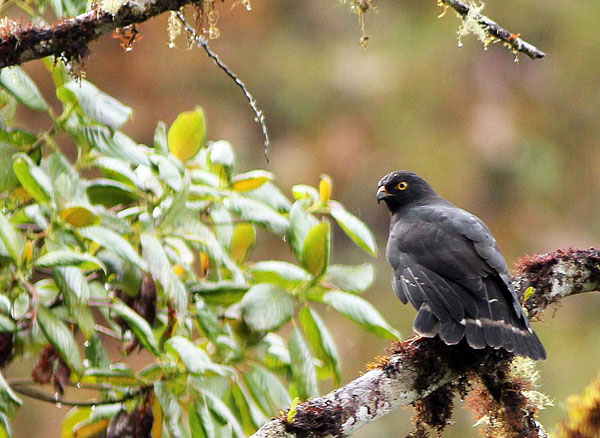 Only by ignoring more flocks in the lush forests was I able to make it to the more stunted higher elevations where I easily spotted this inquisitive Eye-ringed Thistletail next to the road.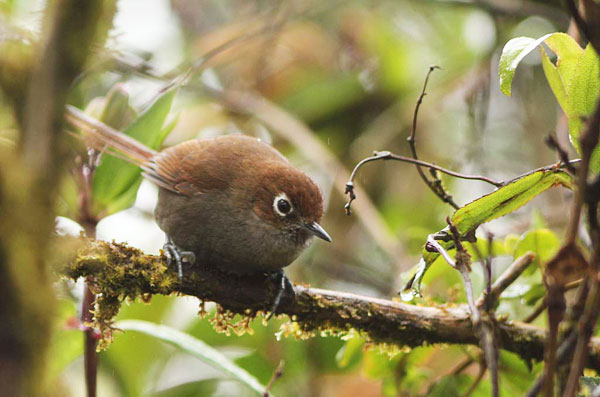 In the same habitat I found the lovely Sooty Brush-Finch to be quite common.
I wish I could have spent more time just sitting and waiting at flowers such as this showy mistletoe or this yellow-flowered Brachyotum to see what kinds of hummers were here. As it was, I spotted Great Sapphirewing, Shining Sunbeam, Tyrian Metaltail, Collared Inca, Chestnut-breasted Coronet, and Amethyst-throated Sunangel.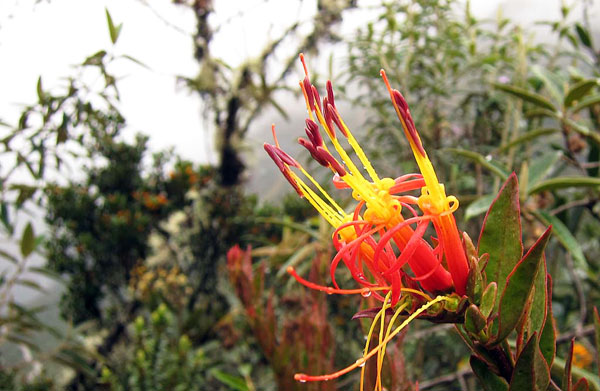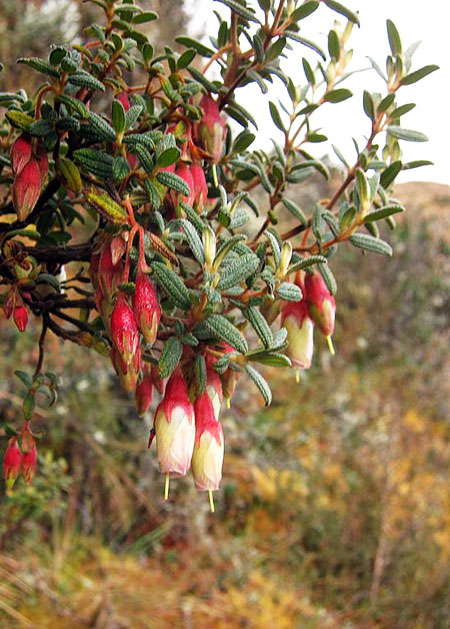 As I headed back to Lima, I passed through some higher elevations with even more stunted treeline woodlands. Overlooking a nice large patch of mossy Polylepis I got one nice look at an all blue Tit-like Dacnis, my first one since I birded Ecuador nearly 20 years ago. Briefly I had a dull bird which might have been one of the local targets, Olivaceous Thornbill – something to look out for next time. Then I noticed this Stripe-faced Antpitta hopping on the gravel way below me.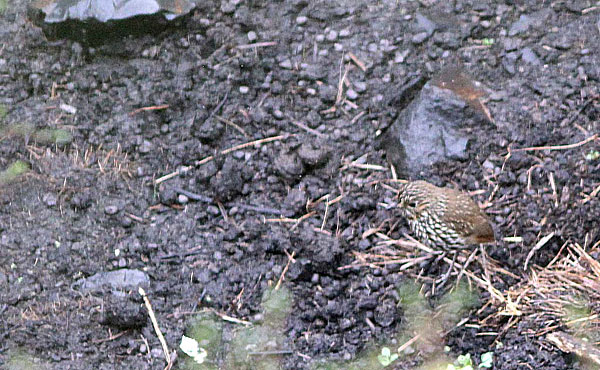 My last little birding stop was where a rushing stream passed right by the road, and it was little surprise to find a Torrent Duck right where one should be.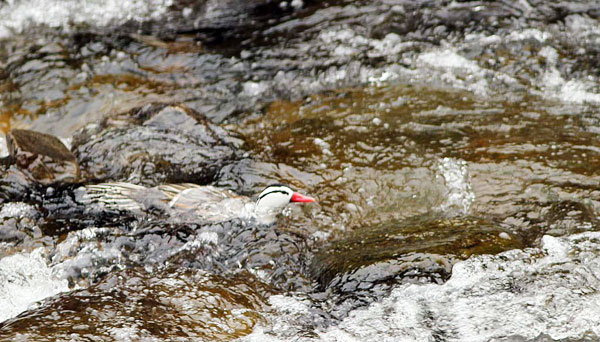 Thanks to my handy GPS I managed to navigate through the maze of Lima to return the rental car and make it to the airport in time to meet up with Steve Howell, arriving to join me on my next leg of scouting in the northern departments of San Martín and Amazonas.
March 13: Rich Hoyer on Cristalino Jungle Lodge, Brazil
When I arrived at Cristalino Jungle Lodge as a volunteer guide on September 1 four years ago, I was plunged right into the mayhem known as tropical biodiversity.
The reason I had signed up for the position was to be able to spend some intensive, quality time in the region so I would feel more competent as a tour leader in South America. After all, almost anything I learned here could apply towards my tours elsewhere. I had spent some time in Amazonian habitats, but I still needed more experience – to tease apart the plumages and voices of all those woodcreepers, foliage-gleaners, and antwrens, for example. Two months at Cristalino seemed like just the ticket.
When I arrived at the lovely Hotel Floresta Amazonica on my first day, I thought I might receive something of an orientation and perhaps a few days to get my bearings, record some bird songs and figure out the commoner mystery songs on my own time. But instead I was informed that my first client had arrived at the lodge the previous afternoon – an hour's jeep ride and 20-minute boat trip away – and was waiting for me. So, after a morning check of the hotel's forest fragment and seeing the young Harpy Eagle in the nest, I made the trip to the lodge and met Robert, a birder from Quebec. As it turned out, Robert's German was a little better than his English (he spoke no Portuguese), so while I guiding, not only was I on a steep learning curve with the bird calls, I was trying to improve my Portuguese with the local guides and brushing up on my rusty German.
Luckily for Robert, I was actually already familiar with many of the more common birds, and all of them were going to be new for him. So for the 9 days we were together, I showed him what I knew, and when I heard things I didn't know, I was ready with my tape recorded and microphone. Robert was always patient during these learning moments, for if I didn't recognize a bird it was certainly going to be new for him too.
Even though my head was full after just a few days, during the next five weeks I was assigned to guide guests of the lodge non-stop – it's a busy time of year. But I enjoyed every minute of it. (Ok, I admit there was one rather trying guest...) Sometimes I was guiding non-birders who were just as interested in the butterflies, frogs, spiders, and monkeys, but I kept up on my gradual learning of the birds and became good friends with the local guides who had a lot to teach me. But it became clear that I wasn't tapping Cristalino's full potential. For each new crop of birders arriving and staying only a few days, there was plenty of potential excitement and discovery within a half-hour walk of the lodge. For variety we added in birding walks on trails upriver, accessible only by boat, but I was getting more and more familiar with the same birds – finding that Dusky-cheeked Foliage-gleaner, the Collared Puffbird, or the Manu Antbird.
When my first break finally came during a sudden slow-down in the number of clients at the lodge, I found myself with a full week off. Having become familiar with all the territorial birds close to the lodge, I found myself in the perfect position to find out what was singing at dawn at distant points – places I'd been to only during mid-day lulls and only once or twice. So on my first days off, instead of greeting the dawn chorus around the lodge with guests, I got up at 4:00, raided the kitchen for a picnic breakfast, and headed down the trails. My most exciting find by doing this was a territorial Long-tailed Potoo, never before recorded near the lodge (one had been at the Floresta Amazonica Hotel a couple years earlier), and I learned quite a few new vocalizations, such as the scary pre-dawn growl of Spix's Guan. I also found that the local guides were convinced that I was crazy. Here I was finally faced with time off, and instead of using it to sleep in I was getting up even earlier. I've heard that four years later they're still talking about it.
Before I knew it my time at Cristalino Jungle Lodge was up. In an area not any bigger than a Christmas Bird Count circle, I had seen about 450 species of birds in 8 weeks. I was able to add four species to the lodge's list (in addition to the potoo, I found Silky-tailed Nightjar, Plain Tyrannulet, and a Bald Parrot) and found a poison frog not known from anywhere within hundreds of miles. Yet during this time I feel like I left a lot of stones unturned. I've been back twice on tour, each time for a frustratingly brief week, and I still managed to find some birds I hadn't seen there before. One was my lifer Fiery-tailed Awlbill, a little canopy hummingbird from the south bank of the lower Amazon (my digiscoped image provided the first documentation from Cristalino as well as the entire state of Mato Grosso). Another time I finally caught up with Orange-winged Parrot up the Cristalino River from the lodge. What awaits my next visit? I know that the Rufous-vented Ground-Cuckoo, Cinnamon Tyrant-Manakin, Wing-banded Antbird, and Crimson Topaz are around there somewhere.
I'll be finding out soon, as in August 2011 I'm returning for another two months —not just as a volunteer but this time in my capacity as a WINGS tour leader. Cristalino Jungle Lodge and WINGS will be working together so that I'll be available as an English-speaking birding guide, eager to show you some of the most interesting, complex, and fascinating birds and natural history on the planet.